So, the White House isn't going to let us see any photographs of "Osama" with his face re-arranged, because it might upset some people out there in some countries we no longer need to care about. Okay, I can well believe that the present administration is worried that it might make a bunch of terrorists cry. That figures.
But that's not what's really going on here. You'll have seen – how could you not – the infamous photograph of Obama and the White House brass, supposedly watching the Take-Down live on an operational real-time video feed. You know – the one where Clinton is trying not to yawn (I see that mealy-mouthed creep Malcolm Tucker lurking just behind her. Now we know where he washed up after the fall of the leftist government in England).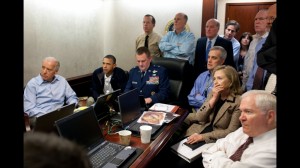 Well, I had some good friends – security sources – take a long hard look at that photo. Using the latest in imaging reconstructive algorithms, they were able to enlarge the picture, depixelate, blow it up some more, depixelate, and so on, and so on, until they could actually see the reflection in Obama's eye. And what were they really all watching, on Saturday night in the West Wing?
This!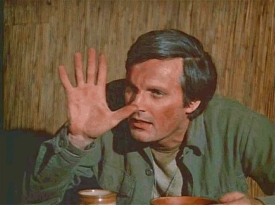 Sickening, isn't it?
One Response to "What the White House picture doesn't show"